Dinah is a toy found in Chibi-Robo! Plug Into Adventure!. She is a dinosaur composed of blocks who eats frogs as food. She is close friends with Funky Phil, the dancing flower. She lives in the Bedroom, spending most of her time up a shelf.
Appearance
Dinah is a T-Rex made of building blocks. The top of her head is red, with a yellow jaw and many blocky teeth. Her body is green, with a purple tail and a white belly. Her arms and legs are blue at the top, with white lower legs and purple feet and hands.
Personality
She is a very silly and fun person, loving to make puns and laughing at her own jokes. She can be intimidating at times, especially if she sees a frog, though most of the time she just acts like a fun grandma. During times of sadness, she acts more serious.
Storyline
The first time Dinah is seen is as a shadow up on the shelves, when the frog in the bedroom is first approached. Interacting with the frog at night with the frog suit on causes Dinah to jump down, roaring, and begin to chase after Chibi-Robo and Telly. She attempts to bite Chibi-Robo, but it causes her teeth to fall out since he is made out of metal. She drops her intimidating act, flailing around until Chibi-Robo gives her teeth back to her. Later on, she'll ask Chibi-Robo to free Funky Phil from behind the blinds, coming up to talk to him once it's done. After a couple bad jokes about T-Rex arms and marriage, Funky Phil starts a dance and she watches. Once the funky seed drops, she'll go up to the shelf and try to find out some information about it, telling Chibi-Robo how to grow them. She acts motherly towards them, supporting their desire to dance with their father.
After Funky Phil "dies" she gets depressed, staying next to him for a while. She then tells Chibi-Robo to collect some blocks, and give a schematic of sorts to Mr. Sanderson. After this is done, she jumps off the shelf, shattering herself. Mr. Sanderson will spend a day rebuilding her into a truck, which she uses to bring the Phillies outside for a concert in honor of Funky. She'll return to normal afterwards, and is relieved once it is realized that Funky Phil was only turned off by accident, and not dead.
After her sticker is collected, she'll ask Chibi-Robo to bring her more blocks, which she uses to build herself a little block house.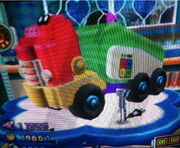 Blocks
White: Backyard: Climb the tree, and at the top you'll see a spider web. Use your Chibi-Blaster to destroy the web (charge the fire by holding down A), then feed the bird cookie crumbs or squirt it with nectar (whichever one it wants). Fly onto the roof and find the piece of wood connecting the two roofs. Climb over to the next roof and it will be there.
Green: Jenny's Room: Climb up the plant and walk along the blue shelf until you get to Jenny's bed. Then, walk along the white side until you get to the pink/red purse. Climb up the strap. Then climb the purple strap and at the top you'll see a miniature train going around. The block is up in that area.
Yellow:  After Funky Phil "dies", Peekoe will be selling it in the Basement at night.
Blue: The day after Dinah asks you to find the blocks, Tao will be chewing on it. Give him a bone (you can find the bone either in the Kitchen or in the Backyard - use Y to look for it).
Purple: Dinah throws it at your head when she asks you to find the blocks.
Red: Foyer: Hover down from upstairs to the shelf that the block is on.
Second Request
Purple: Dinah throws it at your head when she asks you to find the blocks.
Red: Foyer: Climb onto the banister and hover or climb down from upstairs to the newel post that the block is on.
Yellow:  Basement: In the cage above Peekoe.
Blue: In Tao's doghouse, on the bedding, on the next half-day.
White: On the wall, on top of the white border in between awnings. You'll have to climb that tree and drop down on it.
Green: Jenny's room: Atop the castle. Use the center door to reach it quickly.
Trivia
Dinah is the only toy to eat live animals, as she tried to eat Fred in the game.
Dinah talks with a southern accent, and often talks about western things
She will only ever give 1 Moolah.
Her Japanese name is Toy Rex.
Community content is available under
CC-BY-SA
unless otherwise noted.